This document explains how to install Microsoft Assessment and Planning Toolkit (MAP Toolkit)
The Microsoft Assessment and Planning Toolkit (MAP) is an agentless, automated, multi-product planning and assessment tool for quicker and easier desktop, server and cloud migrations.
MAP provides detailed readiness assessment reports and executive proposals with extensive hardware and software information, and actionable recommendations to help organizations accelerate their IT infrastructure planning process, and gather more detail on assets that reside within their current environment. MAP also provides server utilization data for Hyper-V server virtualization planning; identifying server placements, and performing virtualization candidate assessments.
MAP Toolkit is currently discontinued, but given its popularity, it's still made available for download via the Microsoft website.

The MAP Toolkit includes the following components:
1. MAPSetup.exe. Installation package containing the tool and SQL LocalDB.
readme_en.htm. Available as a separate download. Provides information to read before installing the MAP Toolkit, including installation prerequisites and known issues.
2. MAP_Sample_Documents.zip. Available as a separate download. Contains sample reports and proposals.
3. MAP_Training_Kit.zip. Available as a separate download. Contains a sample database and instructions for completing various exercises.

Instructions
Before proceeding to the installation steps, please take into account:
MAP Toolkit is only compatible with Windows operating systems;
We do not recommend installing MAP Toolkit on a virtual PC and/or with a pre-existing SQL server. Please use the default SQL Server Express included in the MAP Toolkit installation.
To install MAP Toolkit, follow the official instructions section here, or follow the below steps:
1. Download MAP Toolkit from here;
2. Run the executable as Administrator and click "Next";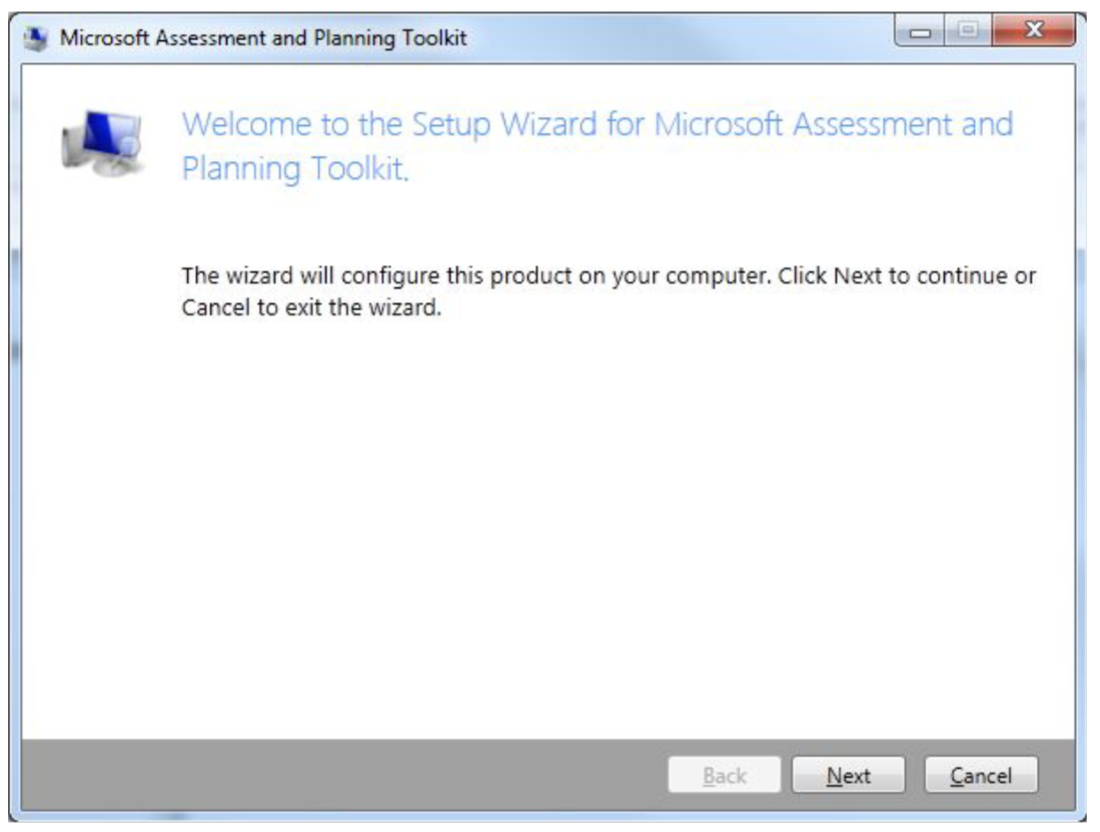 3. Accept License Agreement terms and click "Next";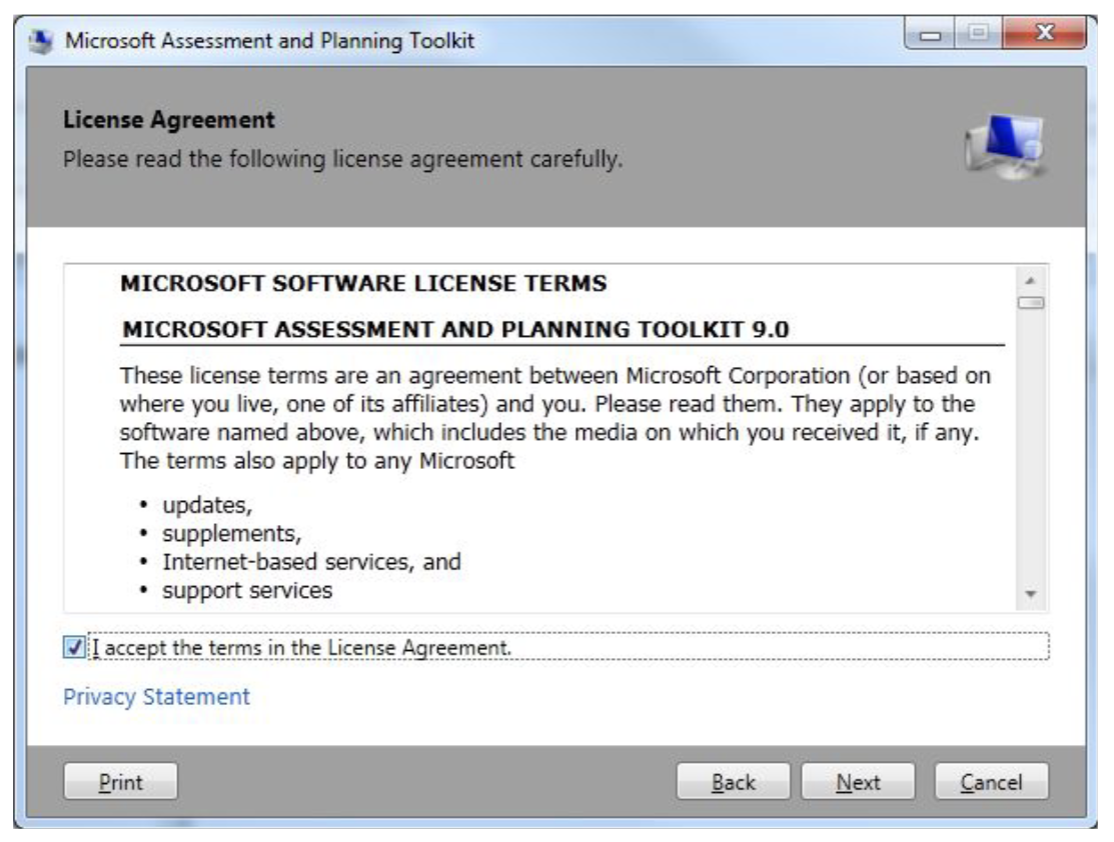 4. Choose the install location (standard is C:\Program Files\Microsoft Assessment and Planning Toolkit) and click "Next";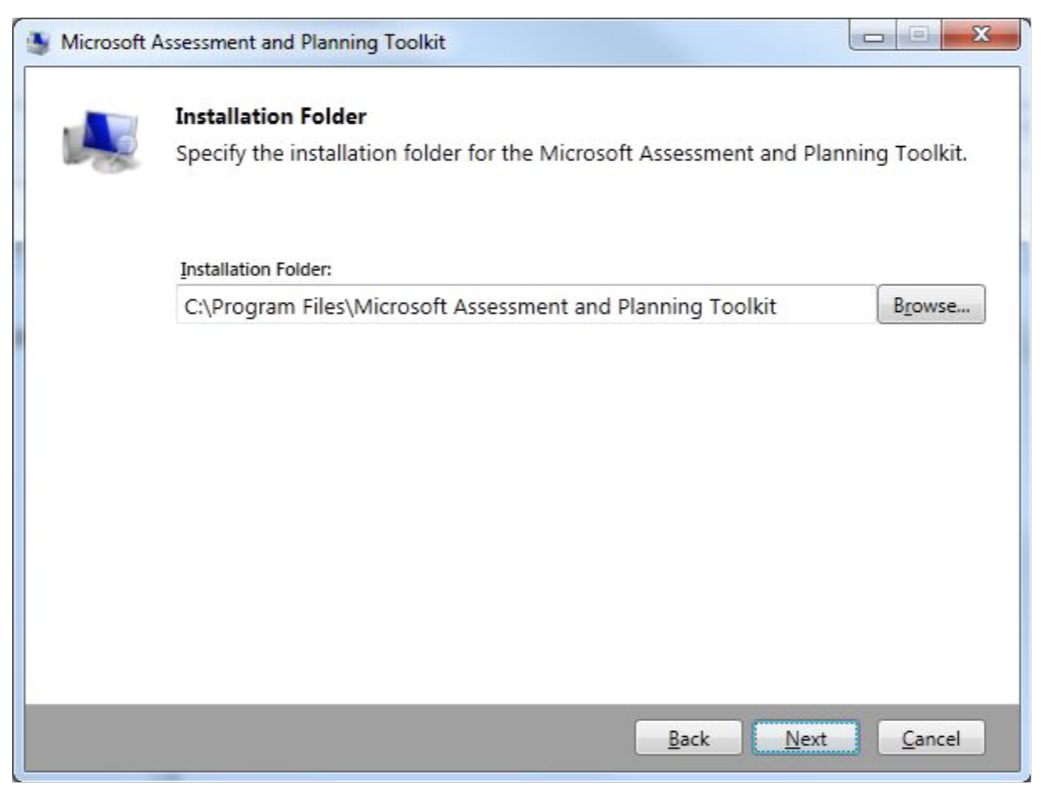 5. Click Install on the next screen and wait for the program to install;
Related articles
For more information on how to deploy and configure MAP Toolkit, we recommend reading this article:
For more information on exporting the MAP Toolkit DB dump and analyzing it MDM, we recommend reading this article: