This document explains how to extract data from Microsoft 365 / Office 365 Admin portal and upload it into Licenseware's Microsoft Deployment Manager (MDM) app.
Notes
Generate usage reports for all active users in Office 365.
Ensure all available columns are selected and included in the report.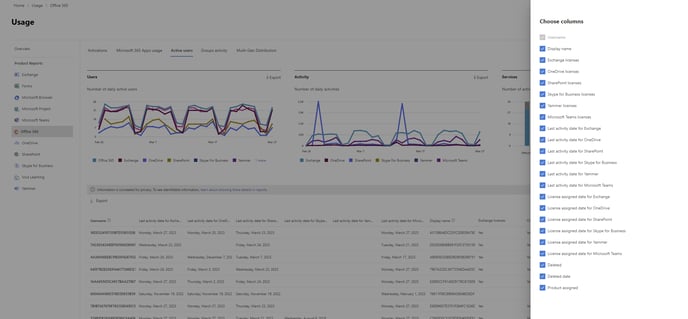 Requirements
Access to Office 365 Admin Portal.
Necessary permissions to view and generate usage reports.
Steps

1. Open the Usage Reports link: - Click or copy and paste the following link into your web browser: https://go.microsoft.com/fwlink/p/?linkid=2074756
2. Navigate to Office 365 Usage Reports: - In the left-hand menu, select "Office 365". - Click on the "Active Users" tab.
3. Customize the table columns: - Locate the table displaying all active users. - At the top-right corner of the table, click on the "Columns" button (represented by a gear icon). - Make sure all columns are selected by checking the boxes next to each column name.
4. Export the report: - Once all columns have been selected, click on the "Export" button located at the top-right corner of the table. - Save the exported report in the desired format and location on your computer.